Hindi speakers! Listen to Navin Noronha talking about being India's only out, gay standup comedian on SBS Hindi Radio.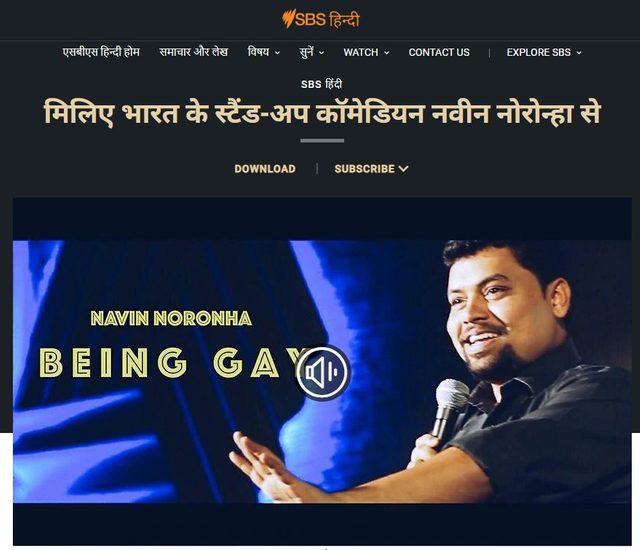 https://www.sbs.com.au/language/hindi/audio/meet-first-indian-gay-standup-comedian-navin-noronha
For english speakers, here is a very dodgy Google-Translate transcription of the interview preamble, just to give you a taste:
Naveen Noronha is a stand-up comedian based in Mumbai. Who come from the LGBTQ community. He says that in his comedy, he raises topics of LGBTQ community apart from general topics. They have great hope from Indian society on the rights of this community. He is currently visiting Australia.
Naveen is India's first gay standup comedian and takes his life, lifestyle and comedy very seriously. You must have heard jokes from comedians. But have you assessed how much maturity they not only assess the conditions but also jokingly say big things. It is the depth of his skill that he does not miss making fun of himself.
So let's do some serious things with a comedian today. First of all, know how Naveen decided to make comedy his career.
Naveen says he is from Mangalore. He says that his childhood was not spent in the midst of a lot of comforts. His parents have raised him with great expectations amidst many difficulties. They say that parents are very important to them.
What would have happened if the new comedian had not been there. Guess it Naveen has an engineering degree and has also worked for some time. But he says that comedy gives him comfort. When he is on stage, he feels that he is talking to his friends.
Many standup comedians in India have an engineering degree, taking a new sarcasm to say that there is an engineering study in India, such that after that nothing else dares. Naveen says that when people get fed up with the news and serials coming on TV, they want something new that can refresh them and they get it in standup comedy.
Naveen is the first gay comedian of India. The big thing is that Naveen believes that in big cities, now people do not panic with this word but try to understand, but in small cities it is still not a very social word. However, he believes that it will take time to get officers for gay marriage and adoption of children in India. They say that before that there are many things where maturity should come.