by Courtney Hodgkiss @courtneyishere
A new wave of queer Asian comedians cracking gags under their regimes' radars are off the leash in Australia this week.
The Milstead Company is proudly presenting Spice Night, a showcase of the trailblazing best of queer Asian comedy, visiting Melbourne, Sydney and Canberra in a whirlwind tour.
It's hard here in Australia to comprehend that many Asian countries still list homosexuality as a criminal offence, or have only recently reformed their laws. Even where it's legal, most Asian countries still maintain a strict set of regulations for anything involving LGBTQI+ activity, including, of course, comedy performances. Spice Night gives a set of very fine south and southeast Asian comedians the platform to finally let loose!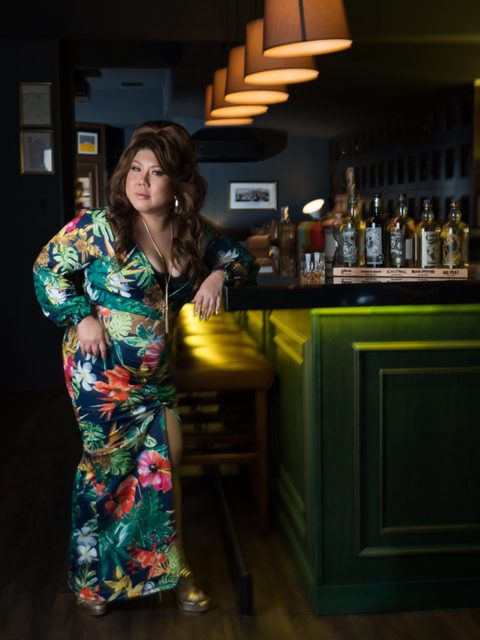 Performer Joanne Kam from Malaysia explains the amount of red tape for her club; "We wanted a queer comedian to come to our club in Kuala Lumpur and we had to apply for a permit three times because the authorities found out that this comedian was very active in the LGBTQI+ community and they were concerned he might promote the LGBTQI+ lifestyle, which is a sensitive subject."
Joanne has been working in the Singapore and KL scene since the 1990's and has seen many raids on performance venues ending in arrest. She says, "…it's just so that someone can say, we're (the police/government) stopping transsexuals doing illegal activities. But what doesn't get reported is that these girls aren't doing anything illegal. They're just doing a show. That's how it is at the moment."
Navin Noronha is India's only out, gay, stand-up comic. Known as a country with a very strict view on queer culture, India only decriminalised homosexuality in 2018. So in hindsight it was a bit concerning that at his very first gig, Navin decided to make sure everyone remembered his name.
"In a moment of sheer adrenaline rush, I came out in public at my first open mic," Noronha says. "I said, hello, if you are wondering about me, I am gay! I was really scared because I was expecting bottles and shoes to be thrown at me. But people were so glad that I had something new to say."
Joanne agrees, "In Malaysia right now, there is one side of the population that wants to push the envelope…another side is… more traditional."
Singapore's Hirzi Zulkiflie says, "That's how change starts in society. Someone must test the water but be careful enough not to get scalded in the process. Comedy to me is politics made entertaining."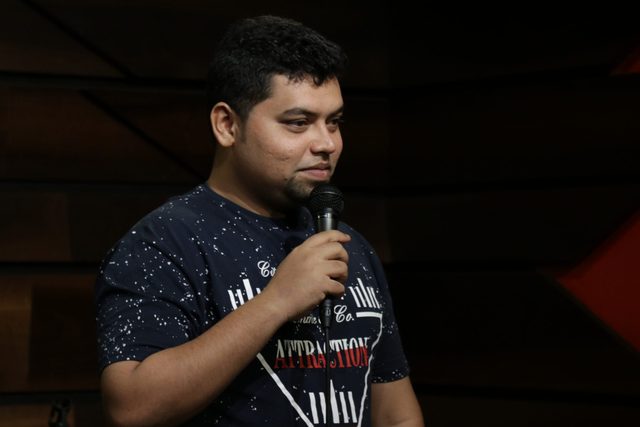 Navin explains how he defines his performance style. "My comedy is storytelling," he says. "It is life-driven and spiced with my humour. And because it's about my life, it's very real for me. A lot of my audiences are not queer but they get where I am coming from because in India, if you are born to a conservative family, you're almost coming out to your family on every level". Filipino-Australian Margot Tanjutco is less defined; "I'm still trying to figure out my voice and it's a very confusing time – an awkward phase much like a creative puberty…".
The excitement at performing uncensored to a live audience is palpable for the Spice Nighters. In an effort to avoid crossing any legal boundaries at live shows, many Asian performers have turned to technology to distribute their comedy – the bloggers, the YouTubers – there are many with an Asian location tag. And then there's Hirzi Zulkiflie.
Hirzi has,you might say, "made it". Hirzi Zulkiflie could BE The Internet. With 150k subscribers hits on his (now discontinued) MunahandHirzi channel, 100,000 followers on the 'Gram, and his own hosting gigs on BBC Asia and the Comedy Channel Asia, Hirzi knows how to keep himself busy. In terms of cachet, he's got it in spades – so it's no wonder that he was made the first Malay Muslim ambassador for Singapore Pride. The latter appointment caused a lot of controversy, with traditional Malay values coming into significant conflict with his performances, "We didn't realize how big of a news it would be," he says. "It was hard for us."
Despite his prolific recorded output, Hirzi reflects on his lack of live performance experience. "I'm also probably the most green (on stage) in the amazing line up."
Joanne gives us a taste of what we might enjoy at her show. "I have a bag of tricks. But you will definitely get the risqué version of me in Australia!"
Just being a part of the Mardi Gras festival is enough to get Navin all in a tizz.
Sydney February 21, as part of the Sydney Gay and Lesbian Mardi Gras
Parramatta February 22, as part of the Sydney Gay and Lesbian Mardi Gras
"I hear it's a blast," he says. "I have some queer friends from India who are in Sydney and they're all going to Mardi Gras!"
Margot is more thoughtful, saying "I created a show from my soul,", which sounds worth the price of the ticket alone. And all Hirzi wants is to make his country proud, telling us, "I hope I do a decent job repping Singapore in this stellar line up. Super honoured as this would be my first show in Australia."
But who really cares so long as they can skip the queue at all the parties. Navin is wide-eyed at the idea of this wonderland behind the velvet rope – for until now it has been the stuff of daydreams. "Can you believe, I've never been to a gay bar in my life? I've been to queer parties in India but they're fairly tame. Going to a bar where someone checks you out? I've never had that experience. So I want to try that."
Spice Night performs: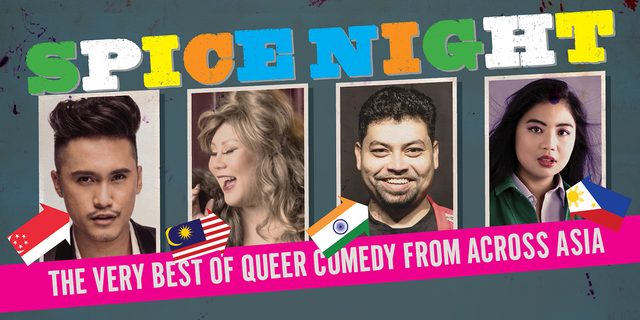 More info on the cast, all tour details and bookings links are at milstead.com.au/spicenight