Milstead Archives – February 2020
Spice Night was a showcase of queer south and southeast Asian comedians that toured Melbourne, Sydney and Queanbeyan in February 2020.
Link to: Photo archive here
Link to: Media Release here
---
Original page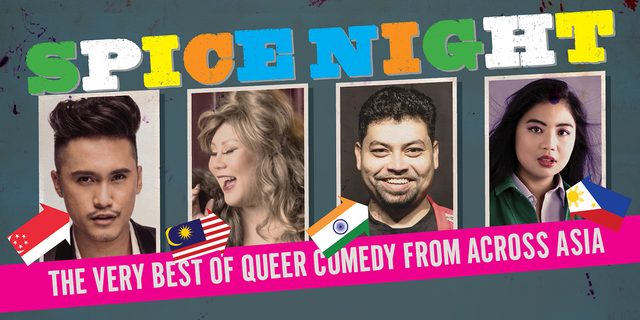 Trailblazing queer comedy from across Asia
These four international comedy stars are the new sound of the Asian century. Breaking the rules and queering the mic from Mumbai to Manila, these out-proud-and-hilarious performers are furiously funny and hot, hot, hot.
Featuring Singaporean Youtube star Hirzi Zulkiflie (Hirzi and Munah), the Queen of Malaysian Comedy Joanne Kam (The Boom Boom Room), India's only out gay standup Navin Noronha, and Australian-Filippino shooting star Margot Tanjutco.
Click here for updates and special offers for each show
Meet the Spice Night cast (click for bios):
Coming from countries where homosexuality still is or until recently was criminalised, these jokers are sharp and salty, and pack more punch than a pound of pepper. It should be illegal to be this funny, not this gay.
Spice up your night with the camp, cutting edge of global comedy.
(Spice Night is performed entirely in English)
Sydney February 21, as part of the Sydney Gay and Lesbian Mardi Gras
Parramatta February 22, as part of the Sydney Gay and Lesbian Mardi Gras