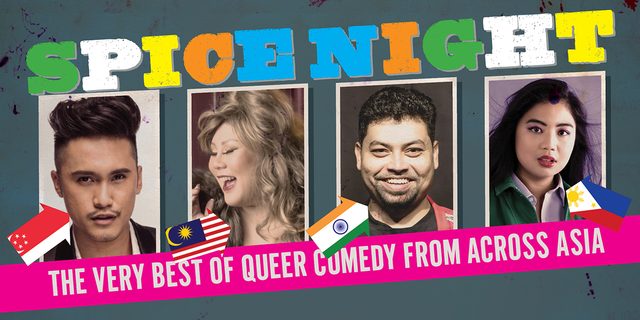 From Mumbai to Manila, these out-proud-and-hilarious comedians are furiously funny and hot, hot, hot!
Book now – this special event is in Melbourne for ONE NIGHT ONLY!
Spice up your night with the camp, cutting edge of Asian comedy.
Click here for your link to special VIP discount tickets
Meet the Spice Night cast (click for more info and video):
From Singapore:
Hirzi Zulkiflie has gained hundreds of thousands of followers through the Munah and Hirzi YouTube channel and was recently first on Buro 24/7's list of Singapore`s best standup comedians. He has starred in his own shows on BBC and Comedy Central Asia, and was the first ever Malay Muslim ambassador for Singapore's Pink Dot festival.
From Malaysia:
Joanne Kam is the high camp queen of Malaysian comedy, who headlined the sold out Comedy Zone Asia showcase at the 2019 Melbourne International Comedy Festival.
From India:
Navin Noronha is India's only out, gay, standup comedian, who hosts his own hit podcast Keeping It Queer and comes to Australia direct from presenting his new solo show The Good Child at the Bengalaru Comedy Festival
and from Melbourne via the Philippines:
Margot Tanjutco is a stunning new Filipino-Australian talent nominated for the Melbourne Comedy Festival's Golden Gibbo award in 2019.